Jean Bruller Vercors Quarterly Survey No. 7 Illustrated 10 Boards + Drawing 1/75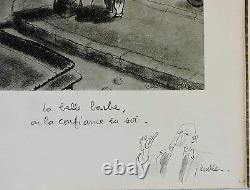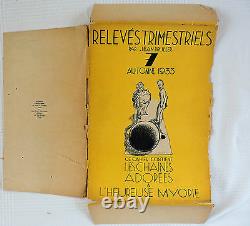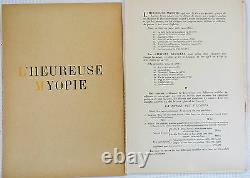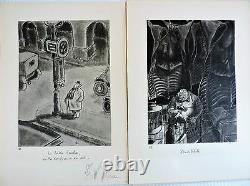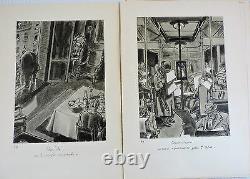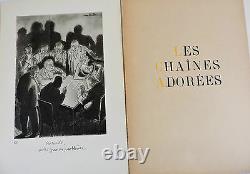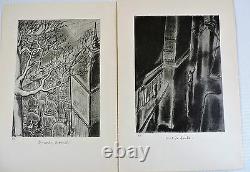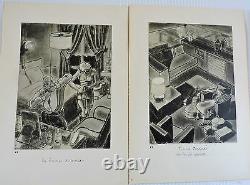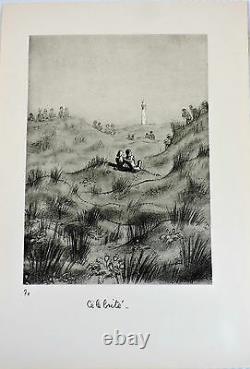 This notebook contains "Golden Chains" & "Happy Myopia". Paris, paul hartmann editor, 1933. Complete with the opening statement as well as the two pages of titles and the 10 boards, (planks 61 to 70) under shirt illustrated with flaps. The illustrated shirt is in poor condition, tearing and flaps detached (lack of justification flap). The 10 boards are in perfect condition. This one is one of 75 copies on lafuma with an original remark (small original drawing with signed pencil).
Each number of the quarterly surveys consists of 10 prints in folio (3223 cm), reproduced in facsimile by the most faithful process (electrotypy) to the dimensions of the original.'the dance of the living is unquestionably the most imposing graphic work of jeans bruller, that of personal and artistic maturity. Between 1932 and 1938, this work was gradually sketched in the form of quarterly surveys. It was crowned from the first delivery by a global project, that of painting a kind of "human comedy" like that of balzac and the men of goodwill of his friend the Roman jules writer. In the spring of 1926, just after the release of his first album 21 violent death recipes, Jean bruller, who retrospectively described himself as a frivolous and immature young man, was brutally struck by existential anguish.
His subsequent albums, hypotheses about painting lovers (1927) and a man cut into slices (1929), fed on this moral and philosophical torment. But it is in particular the dance of the living that carries this deep pessimism with Pascalian accents: man, thrown into this vast absurd universe where nothing has any raison d'être, is weak and miserable. He is a "death sentenced" suspended, according to the title of one of the drawings, insignificant at the scale of the cosmos. Its existence is a long series of chains that society imposes on it and that it imposes itself.
In society, man adorns himself with other "love chains" by ambition and vanity. Glories and honors alive hypocrisy, pettyness and compromise. Titles and drawings often create significant discrepancies.
Monod, bibliography of luxury books, 2011. This item is in the category "books, bd, magazines\old books, collection".
The seller is "lir-roy" and is located in this country: fr.
Age: 1900-1960 Subject: illustrated.

Humor Binding: soft cover Author: jean bruller says vercors Place of publication: paris Editor: hartmann

publication name: quarterly statements
publication date: 1933
special features: original edition
language: French