Paul d'Espagnat's Original Signed Drawing Board: The Journey 1924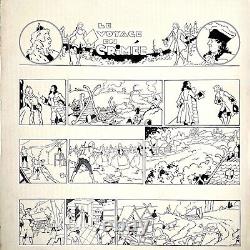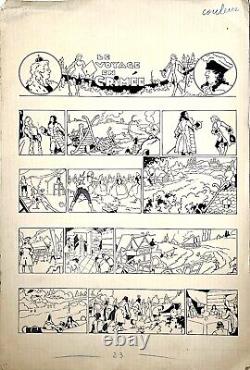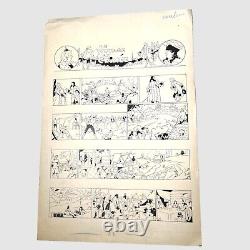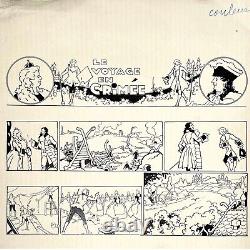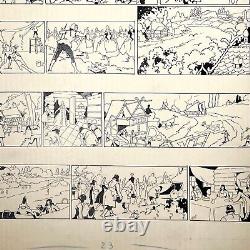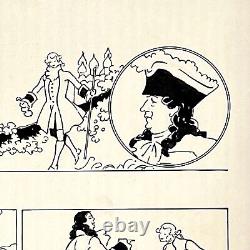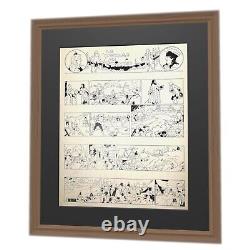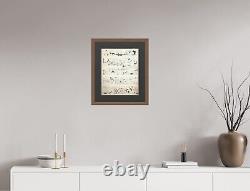 Painter, illustrator, and French draughtsman. Original ink drawing illustration - 1924. The artwork is sold as is, without a frame.
The frame shown in the photo is meant to provide examples and decoration ideas for this drawing. He created a humorous comic strip about Empress Catherine II's journey to Crimea, titled "The Journey". The artwork is sold as is, without a frame. By purchasing this original illustration, you are making a lasting investment that can increase in value over time and can be passed down from generation to generation.
You are also choosing a source of inspiration and emotion that can brighten your interior with a touch of art. Paul d'Espagnat is a recognized artist known for his colorful and geometric style, influenced by Cubism and Fauvism. He traveled to several countries, from which he brought back sketches and memories. He participated in the decoration of the Théâtre des Champs-Elysées and the Trocadéro Palace.
He also created advertising posters, illustrations for books and magazines, and comic strips. He is the brother of the painter Georges d'Espagnat, who also painted Mediterranean landscapes. The drawing dates back to 1924 and depicts a comic strip composed of 12 panels, each illustrating a different scene from Empress Catherine II's journey in 1787, accompanied by her favorite Grigori Potemkin, who had organized a mise-en-scène to conceal the peasants' poverty and impress the sovereign.
The drawing is done in black and white, with a fine and elegant line. The style is humorous and satirical, with ironic dialogues and caricatural expressions.
The drawing measures 50 cm in height and 34 cm in width. It is signed by the artist in the top right corner. It is excellently preserved for its time, without stains or tears.
It is done on thick and resistant paper. The frame is not included in the sale, it is an example of possible presentation. The drawing is a unique piece that has not been reproduced or copied. It bears the artist's signature, guaranteeing its authenticity.
This drawing stands out for its historical and comedic subject, which references a famous episode in Russian history. It illustrates the taste for exotic travel and foreign cultures that developed in France in the 1920s, after World War I. It compares favorably with other similar or different works by the artist or other artists. If you are interested in this drawing, do not hesitate to contact me for more information or to place an order. I will send you the artwork as soon as possible, after payment confirmation. The drawing will be sent flat in a rigid waterproof envelope, protected by bubble wrap or cardboard.