Translation: Original Drawing by Georges QUESNEL circa 1910: Napoleon Revolution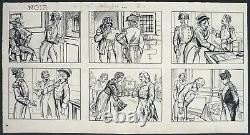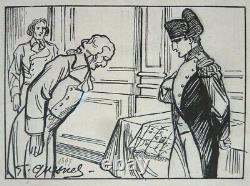 Humorous cartoonist and author of picture stories (ancestor of comic books). He worked between 1886 and 1916 for the illustrated newspapers "le pêle-mêle," "Polichinelle," "le petit illustré amusant." THE DRAWING: "The Emigrant" (with Napoleon 1st). Original panel for a picture story (ancestor of comic books). Ink drawings on pencil lines + gouache touch-ups.
Signed in the last panel. Size: 22.5 x 41.8 cm. Central fold, 1 small tear on the left side. Hand delivery possible in Paris 9th arrondissement.