"My Mother, Grau Sala" Written on Water No. 3/20 Original Drawing Rejected Plate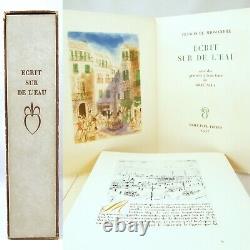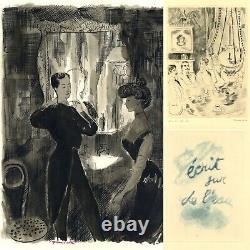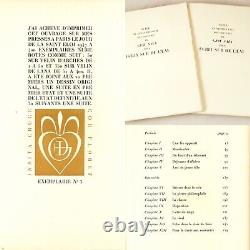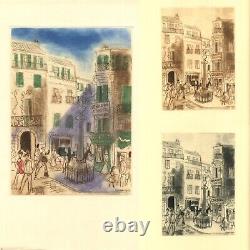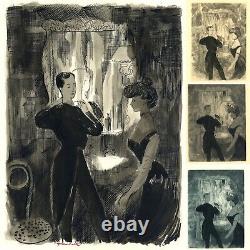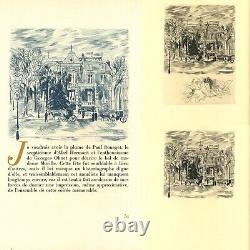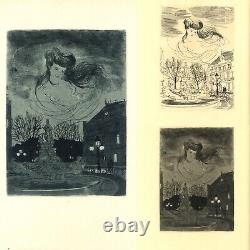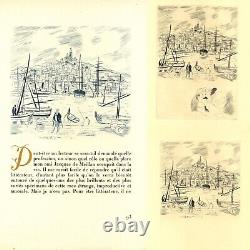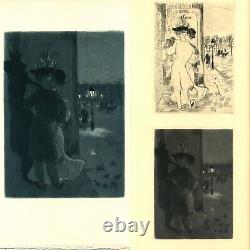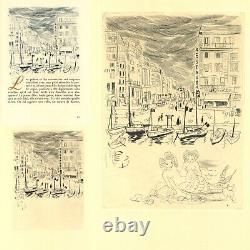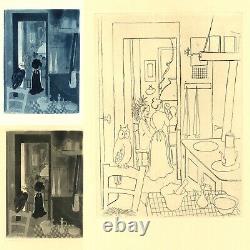 Francis de Miomandre, Writing on Water, with etchings by Grau Sala, Paris, Émile-Paul Frères, 1947, 266 p. Loose sheets with illustrated cover, case and publisher's slipcase.
Cover, color frontispiece, 30 blue illustrations in the text: 15 full-page copper engravings + 15 headers. All the engravings, related to the title of the work, are printed in shades of blue: midnight blue, electric blue, ultramarine, indigo, navy, sapphire.
Limited edition of 400 numbered copies: 50 on vélin d'Arches from 1 to 50 and 350 on vélin de lana from 51 to 400. The first 20 copies include an original drawing, a first state suite, and a final state suite, the next 30 copies include a suite.
Our copy is number 3 of the special edition. It contains, as announced in the colophon, 1 original drawing in India ink.
Signed in red by Grau Sala. This is the original drawing for the 4th plate, p. 1, a first state suite of the 31 engravings, and a final state suite of the 31 engravings.
It is also enriched with a rejected plate with the mention "rejected plate" and the hand signature of Grau Sala in gray pencil, not mentioned in the colophon. Writing on Water was published in 1908, by a Marseille publisher called Le Feu, directed by Émile Sicard, in a limited edition of five hundred copies. The novel was awarded the Goncourt Prize that same year, beating Henri Barbusse, Amédée Rouquès, and Jean Violis.
When the verdict, signed by Léon Hennique, president of the academy, was announced, only a dozen copies of the five hundred remained and they sold within an hour. Sicard and his printer hurried to Paris, determined to flood the booksellers with a new edition of this unexpected Goncourt winner. But ill-equipped and so happy to discover the charms and pleasures of the capital, they did not find the time for this reprint.
When the volumes finally came off the press, it was too late. Miomandre admits, without any regret or resentment, that it took him over seven years to sell the three thousand copies he had planned for his glory. The novel invites us to follow the sentimental apprenticeship of young Jacques de Meillan (alter ego of Francis de Miomandre) along the water in early 20th century Marseille. The theme is playful and the writing, light and without any stylistic affectation, exudes a charming and ethereal charm when read.
It is a kind of small tribute to youth and love, of a very young man whose sap runs through his body and mind with bubbling desires. In the preface, Miomandre warns his readers of the time: "It requires no effort to be read. Whether you open it in the middle, it will be as intelligible to you as if you approach it from the first chapter. Like eternity, it has no beginning or end, but it is shorter." André Gide, perplexed, notes in the Nouvelle Revue Française about Writing on Water: "In what tone should one speak of this light book? Light as a bubble, inconsistent, bizarre, it eludes criticism and seems constantly in formation. It could be unbearable; it is charming." Exceptional set in excellent condition. Sumptuous illustrations and signed original drawing by Grau Sala. Carefully packaged shipment with tracking and insurance worldwide. The illustrative photos in the listing show the 3 states of a selection of plates and the 4 states for the one with the original drawing in India ink. Additional photos available upon request.